Welcome to the 39 Series Website
Welcome!
This site is essentially a private site set up to support individuals and groups learning and teaching the Gurdjieff Movements.
New
Our original focus was on the 39/46 series with the intention of dancing the full set of 46 Movements at one event, possibly in early 2018. We did practice all of the 46 series (with 2 undocumented exceptions) during a 40-day period of four seminars in Goa, India during January and February of 2017. (Links to pictures and descriptions of those four seminars are available in the left sidebar for logged in participants.)
There was a strong effort on the part of many people during this 2017 event, but the experience reinforced our understanding of the (anticipated) difficulties of actually assembling the required number of dancers (minimum of 24) with the requisite experience of working together to dance the full 46 with an acceptable level of inner and outer quality. In the face of those difficulties we have had to (reluctantly) put those plans on hold for the foreseeable future.
One positive outcome of this initiative has been the creation of this website, with documentation, notes, music and videos for most of the 46 series (available to logged in participants). We will also work toward expanding the resources available on this site by including what are referred to as the Obligatories and other types of Movements.
In the future we will have more information available to the public on the Gurdjieff Movements, along with contact information for individuals who are currently teaching or in other ways supporting the Movements. In the meantime there are several public videos on the site and links to other sites which you might find of interest. We've also included a calendar of Movements events at various locations around the world. Please let us know if you would like your Movements event listed.
The two videos below provide something of an introduction to the Gurdjieff Movements and to how Gurdjieff viewed the Movements...
Please see the About page for information about having an account on this site.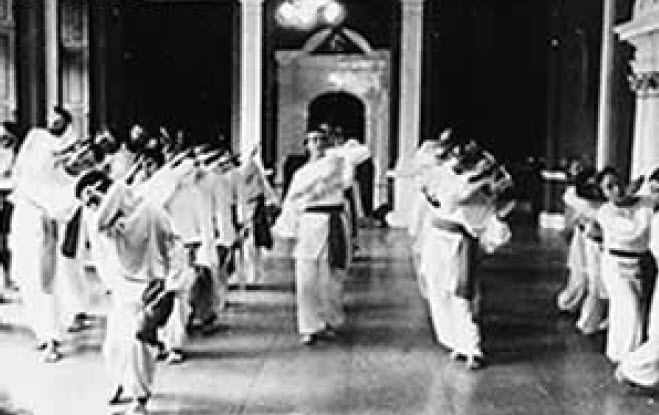 Movements at J.G. Bennett's 4th Way School at Sherborne - 1972